Akuafoil
Please select artwork files:
Your browser doesn't have Flash, Silverlight or HTML5 support.
Description
Additional information
Print Templates
Description
Radiance never seen before – dazzle you can afford! Akuafoil gives you a wide range of CMYK colors with a sparkling foil finish and an ideal reflection that is priced to give you a true competitive advantage. State-of-the-art features allow you to produce large solid areas as well as reversed out areas of foil. You can produce foiled half tones, gradients and have multiple colors in foil on the same design. The design possibilities are limited only by your imagination, giving your customers an exquisite edge.
Popular Uses & Ideas
Party Invitations
Club handouts
Unique business Cards
Colorful promotional postcards
Birthday handouts
Holiday handouts
Standout booklet covers
Sizes

Available in a wide variety of sizes ranging from 1.5" x 3.5" to 8.5" x 11"

Stock Types

16 PT
70lb Sticker with split liner

Run Sizes
Color Options 
5/0-Akuafoil+CMYK 1-Side
5/5-Akuafoil+CMYK 2-Side
      also 5/4-Aquafoil+CMYK 1-Side, CMYK Only 2nd Side
Coating Options
Spot UV Coating-

A liquid coating applied to the printed piece only in specific areas as opposed to all over coating. Indicate what areas you would like to have UV by providing a mask file where UV areas are black and No UV areas are white.

UV Coating-

A liquid coating applied on the box, which is then bonded and cured with ultraviolet light. This coating is used to provide a protective coating to the printed image. Please note that you CAN NOT write or imprint on uv coated jobs.

No Coating
With Akuafoil, you can turn a wide range of CMYK colors, into multi-colored foils. Akuafoil uses a special processed foil system that is applied under 4/c process to create an array of foil colors. It's simple, affordable, and makes your prints stand out from the crowd.
For an Akuafoil job, you must include an Akuafoil/mask file along with your CMYK file. The mask file indicates where the foil will be placed. The file process is the same as spot UV—100% K where foil is placed, 0% where the foil is not placed.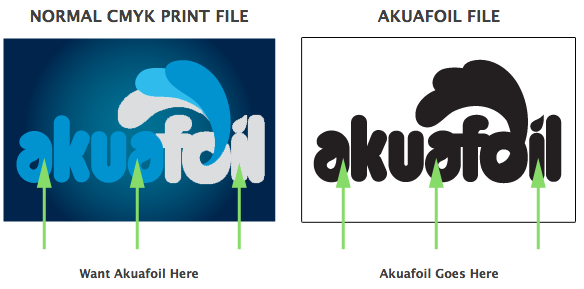 As shown above, the file on the left is the normal CMYK print file. If you want the logo to be Akuafoil, then your Akuafoil mask file should look like the file on the right. The White indicates no foil and 100% K indicates where the Akuafoil will be.
Here are some more things to keep in mind when creating your Akuafoil artwork:
Make sure the mask and CMYK print file are aligned and match up properly.
Akuafoil works best on lighter colors. The darker the CMYK color, the less the Akuafoil look.
Do not use very thin or small text and artwork with Akuafoil… Use san serif fonts above 12 point for best results.
If you would like only silver Akuafoil to print, make sure to have at least 15% K in that white area. White in the CMYK file that is 100% K in the Akuafoil file will appear as plain silver Akuafoil. However, for a higher quality plain silver Akuafoil, we recommend to have at least 15% K in that white area.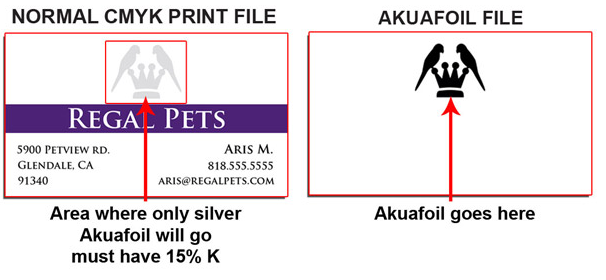 When creating knockouts in the Akuafoil mask or in the CMYK print file, beware there might be a "Halo" of white around the knockout area. Below are two examples… On the left, a file with a CMYK magenta background with a knockout for the Akuafoil text. On the right, a Akuafoil background with a knockout for the CMYK text.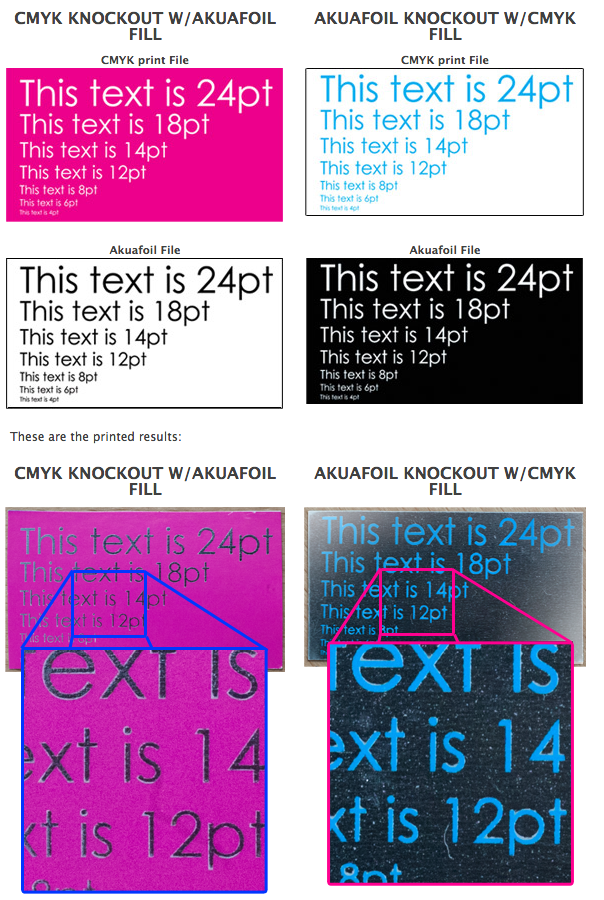 You can see the white "Halo" in-between the CMYK ink and the Akuafoil. To prevent this, grow/stroke the Akuafoil area in the mask by 1 point. This will allow the Akuafoil to bleed into the CMYK area, reducing the white "Halo" effect. You can also fill in the knockout with a color to reduce the effect further.
Additional information
| | |
| --- | --- |
| Dimensions | 11 x 8.5 x 1 in |